About our Hotel
Hotel Ilapuram is a luxury boutique hotel located in the heart of Vijayawada combines classic heritage with contemporary elegance and has been the discerning retreat and traveler's ideal getaway from over 3 decades.
Vijayawada is the third largest city in Andhra Pradesh after Hyderabad and Vishakapatnam and is located on the banks of river Krishna, bounded by the Indrakeeladri hills on the west and the Budameru canal on the north. It is also known as the financial capital of Andhra Pradesh.
As the tallest structure across Vijayawada and adjoining areas, The Ilapuram Hotel, Vijayawada features panoramic views of the hills and the Krishna River. Centrally located in the business district of the city, the hotel is only 25 minutes from the domestic airport and 15 minutes from the railway station.
Ilapuram venkaiah M.L.C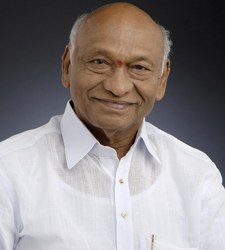 Mr. Ilapuram venkaiah - Founder, Chairman & Managing Director of Ilapuram hotel. is a Member of the Legislative Council from the Krishna Local Authorities. A widely respected and highly regarded figure amongst the vijayawad & Andrapradesh political community, he was acknowledged for his dynamism, foresight and forward thinking.
Mr. Rajiah's contributions to the hotel industry are well documented and he took it upon himself to further the cause of the industry, Under his stewardship, ilapuram Hotel became one of the A p's largest privately owned hotel